HOLLYBANK
now Sunnybank.

Shire Lane, Chorleywood,
Hertfordshire.
1903

For Dr H. R. T. Fort, nominally for the Rev. Matthew Edmeads.
House and doctor's practice. Near The Orchard.
The walls are roughcast, the windows have stone dressings and iron casements and the roofs are of red tiles.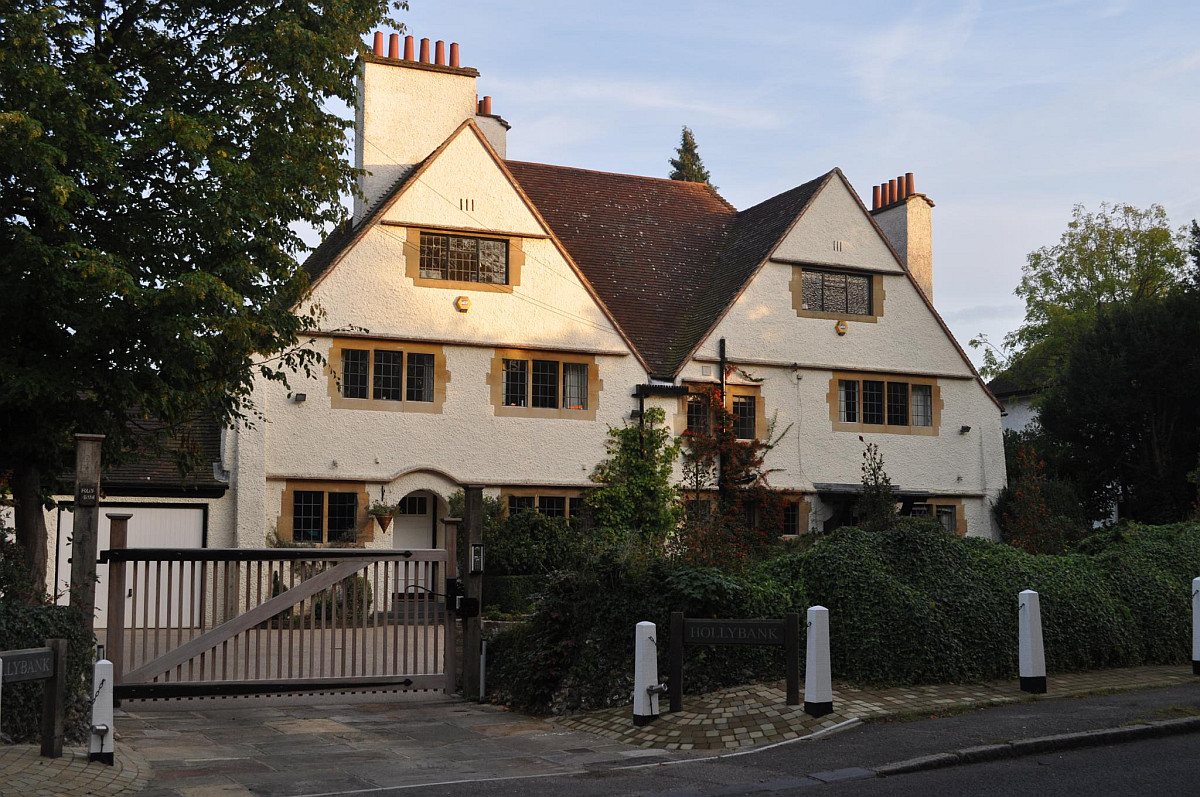 Link > Photo by Phil Beard on flickr
Contemporary photograph of the front elevation
published in: Wendy Hitchmough, C F A Voysey, p. 147, pl. 10.
RIBA Photographs Collection.
There are three photographs of the house at the RIBA.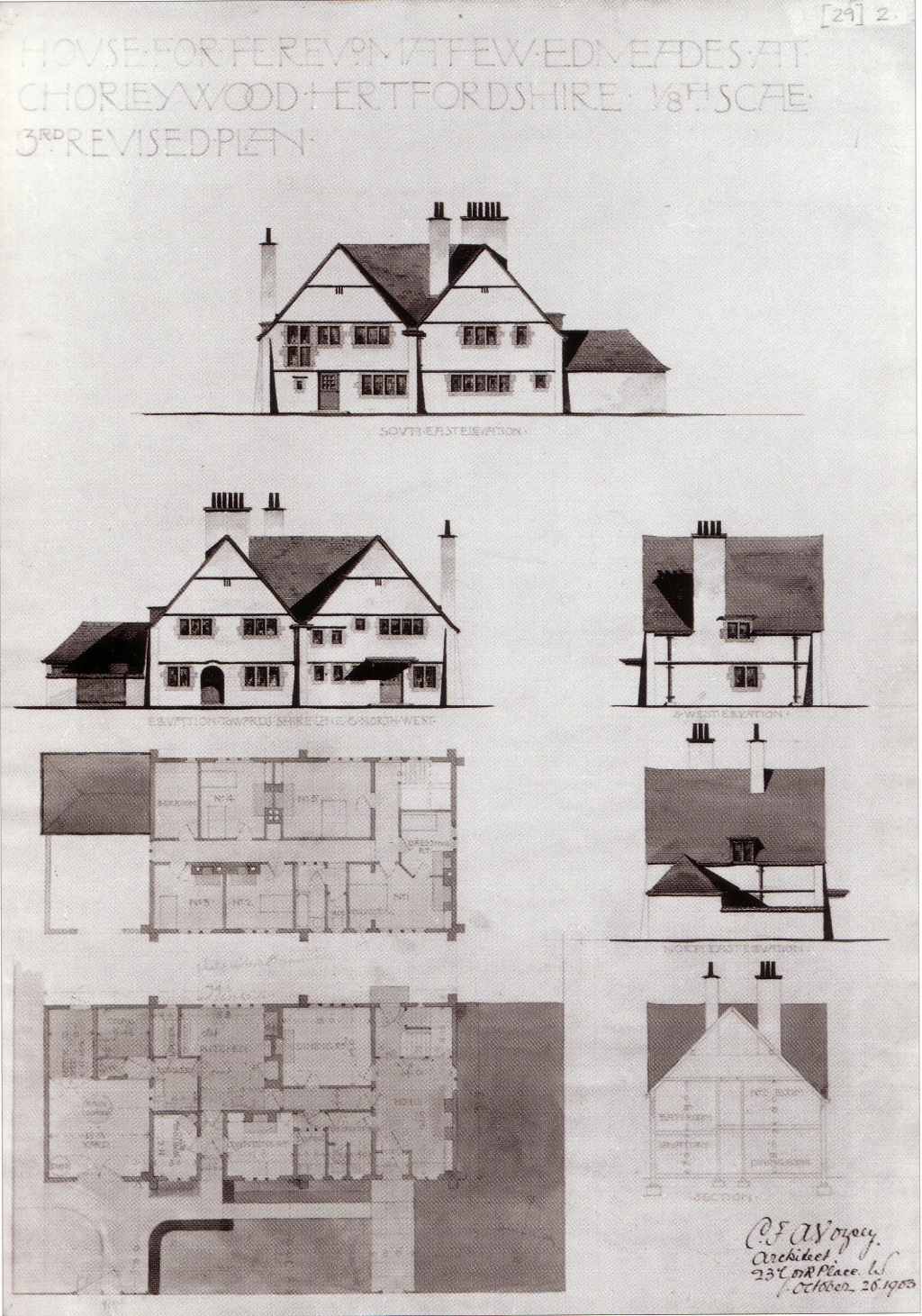 Unexecuted design,
published in Stuart Durant, C F A Voysey, London 1992, p. 108.
RIBA Drawings Collection
NOTES: The ground floor plan shows the two entrances to the house,
one for the family and the other for the patients with the waiting room
and consulting room on either side of that second entrance (Source: RIBA)
Link > RIBA Drawings Collection (Hollybank)
Plans and elevations,
published in: Wendy Hitchmough, C F A Voysey, p. 146, figs. 8 & 9

Link > RIBA Drawings Collection (Hollybank)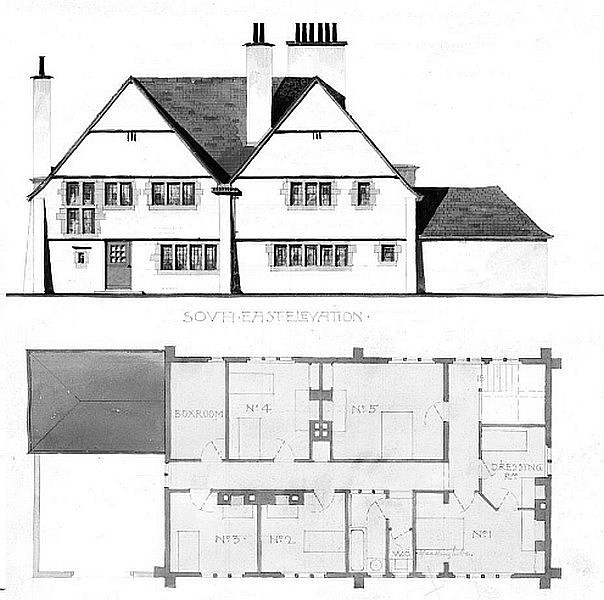 Link > RIBA Drawings Collection (Hollybank)
Drawings Courtesy of The Royal Institute of British Architects.
Photographs, drawings, perspectives and other design patterns
at the Royal Institut of British Architects Drawings and Photographs Collection.
Images can be purchased.
The RIBA can supply you with conventional photographic or digital copies
of any of the images featured in RIBApix.

Link > RIBA Drawings Collection (Hollybank)

Link > RIBA Drawings Collection (Voysey Images)
Description on Historic England
TQ 09 NW CHORLEYWOOD SHIRE LANE (Southeast side) Chorleywood
5/109 Sunnybank 16.7.75
II
House. 1903-4 by C.F.A. Voysey for Dr. H.R.T. Fort. Roughcast brick, stone and tile dressings. Tile roof. Arts and Crafts Style. Double gable 4 window front. Entrance to right with a large moulded hood projecting on wood brackets, original door with top lights. Mullion windows with stone surrounds and tile dripmoulds, leaded light casements, 2 lights to right and 3 lights to left of entrance, 2 and 4 lights on first floor. To left recessed in an arched entrance way with the tile dripmould stepped up over the arch is original kitchen door with top lights. 2 lights to left and 3 lights to right of entrance. 2 and 3 lights on first floor. Battered buttresses at ends and at centre. Crenellated rainwater head at central valley. 3 light windows without stone mullions inserted in each attic. Triple ventilation slits in gables. Central axial ridge is taller and is hipped down to cross wings which have roof swept down at both ends. Large cross axial roughcast stack with curved cap behind left gable. Right return has a similar stack with 1 bay of 2 light casements. Garden front: 2 gables with fenestration and buttresses as at front. Original glazed garden door to left. 1 light and datestone to left, 4, 4 and 1 lights to right. First floor 4,3 and 1 lights asymmetrically disposed. Inserted attic windows. Tall stack to right of centre. Door with strap hinges in outshut to right. Left return from right has 1 bay of 2 light casements and this 1 storey out shut with a hipped roof. Another original door and a garage in front of which is a paved yard with a blind arcaded wall to left. Interior: original fireplaces, staircase, strap hinged doors, ventilation grates and furnishings. Formerly known as Hollybank.
(Pevsner 1977: D. Simpson: C.F.A. Voysey, 1979).
Reference:
The Builder's Journal & Architectural Record, XX, 1904, pp. 270-271.
_______________________________________________________
The Voysey family moved to Healaugh near York in 1864.
The young Voysey may have been impressed upon the double gables on the right of The Golden Fleece in York.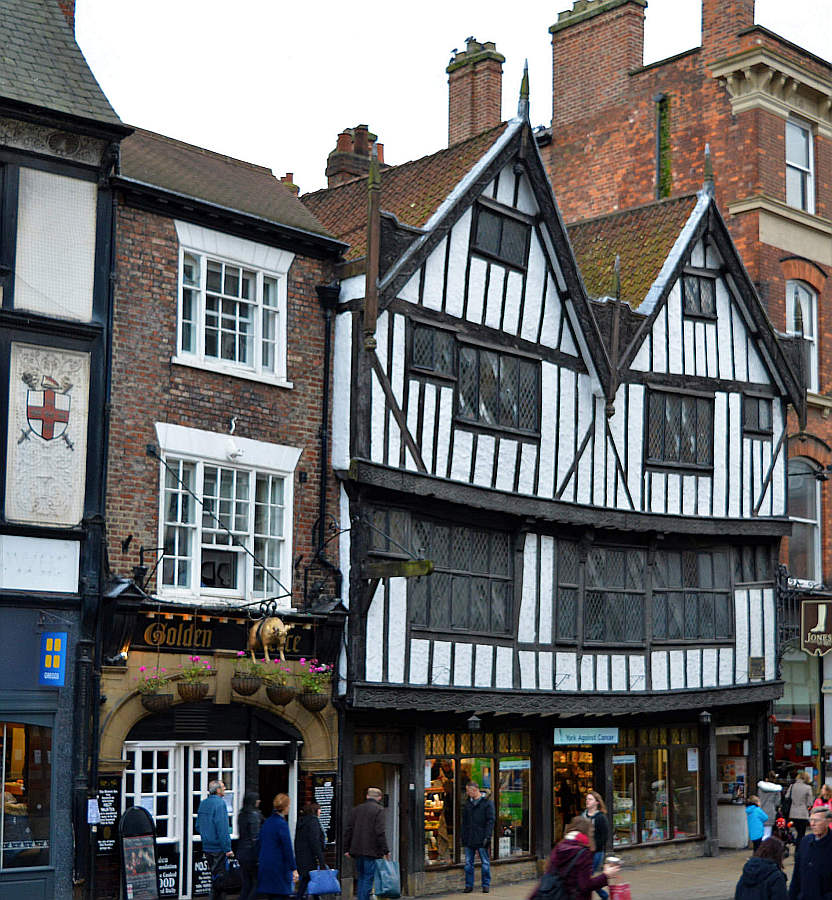 House in York with double gables (not by Voysey)
photo by North Yorkshire Cameraman on flickr
House in York with double gables (not by Voysey)
photo by papabear9 on flickr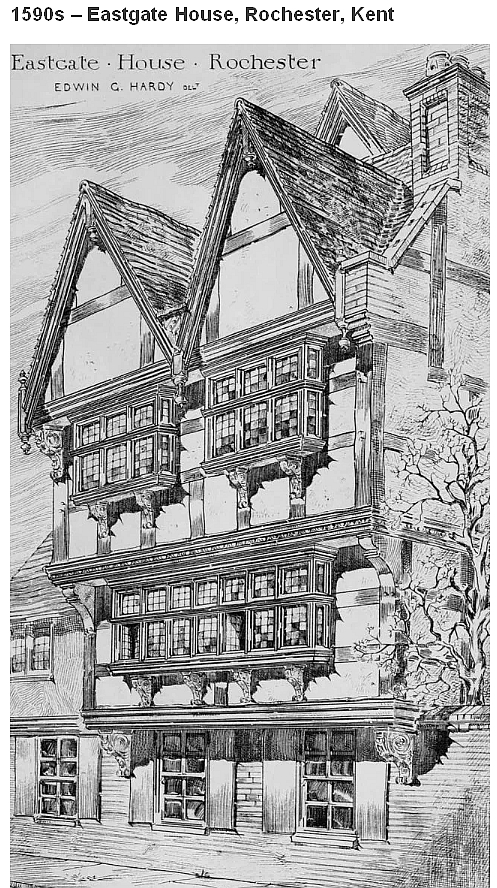 The Elizabethian townhouse was built in the late 1590s with double gables,
image on archiseek
> Return to Voysey Home page <
http://www.besucherzaehler-homepage.de/